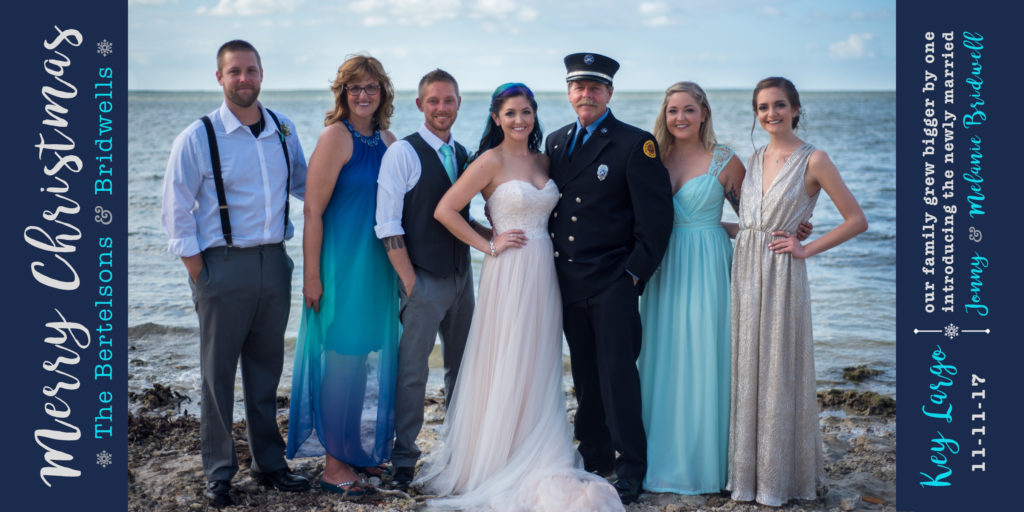 Once again I got this accomplished BEFORE the beginning of December!!
YAY for Walgreens and the awesome 50% off coupon!!
2017 provided us the perfect opportunity to get not only all 6 of the Bertelson Bunch together in the same place at the same time, but also our newly acquired son-in-law Jonny who married our oldest daughter Melanie.
It truly was an amazing, magical wedding that took place on Veterans Day (11/11) at "Hidden Beach" in Key Largo, Florida.
Sadly our 2 pups were not allowed at the wedding venue with us … so though they are absent in this year's photo, they are both still with us …. elderly ladies!!  Twix was 14 in August and Twizzler will be 13 in January 2018. Twix is finally starting to show some signs of aging with her vision and hearing failing. Twizzler is still agile & fine … but food still makes them both happy !!
We wish you all a MERRY CHRISTMAS and that 2018 will be a BRILLIANT year!!!
Also here is the link showing ALL the past Annual Christmas Photos